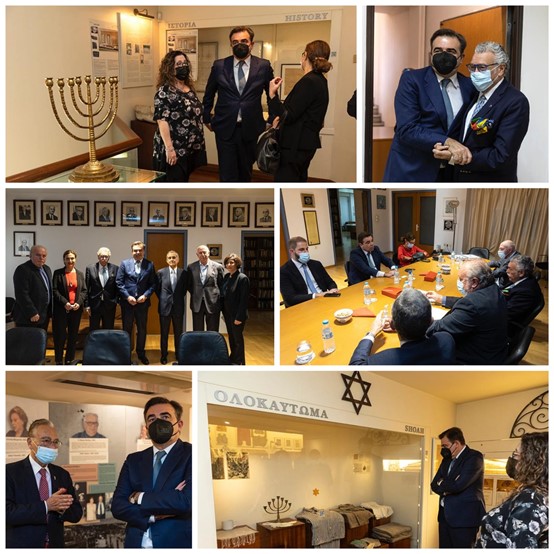 The European Commission Vice-President for Promoting our European Way of [...]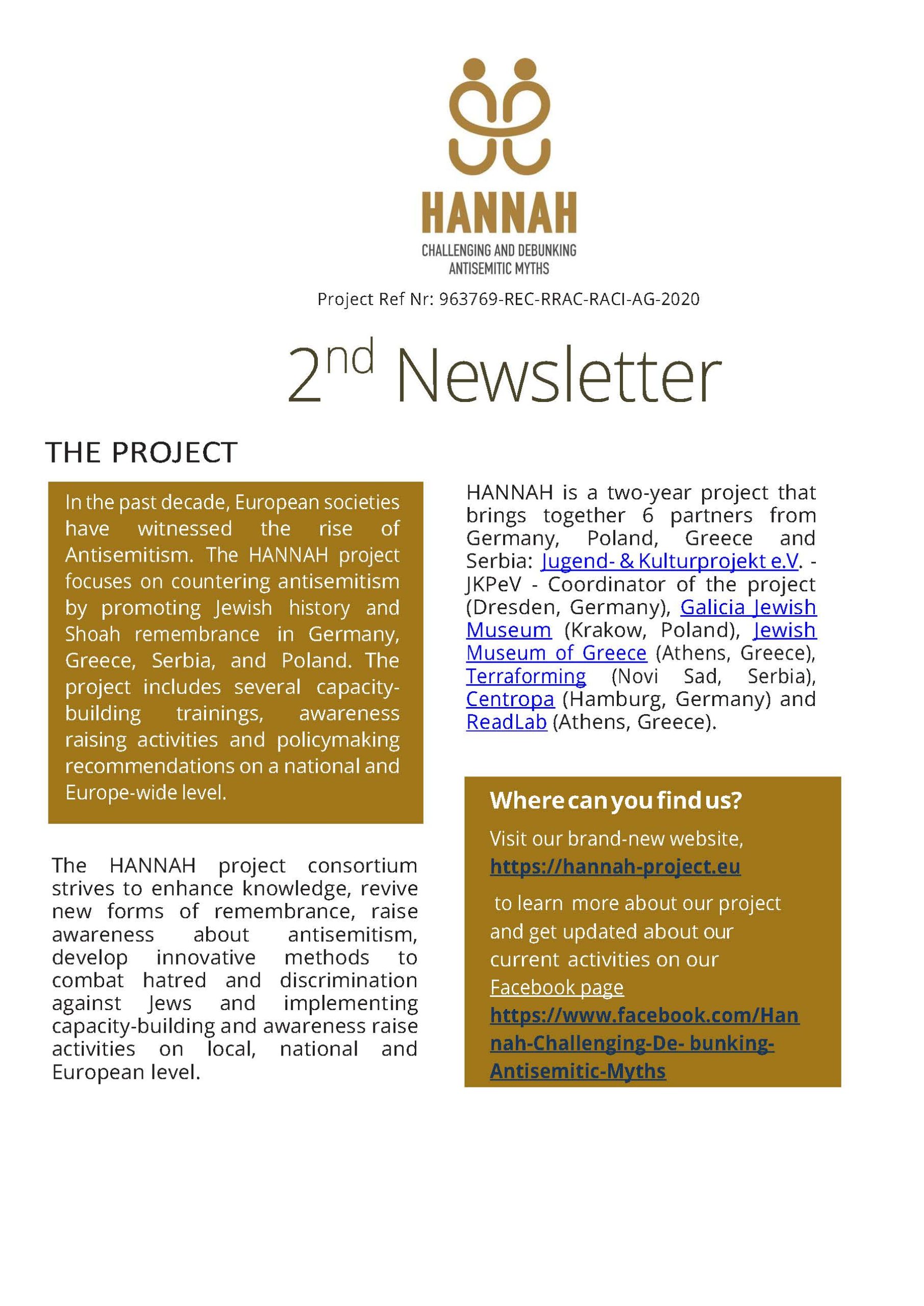 Download here the second HANNAH Newsletter in PDF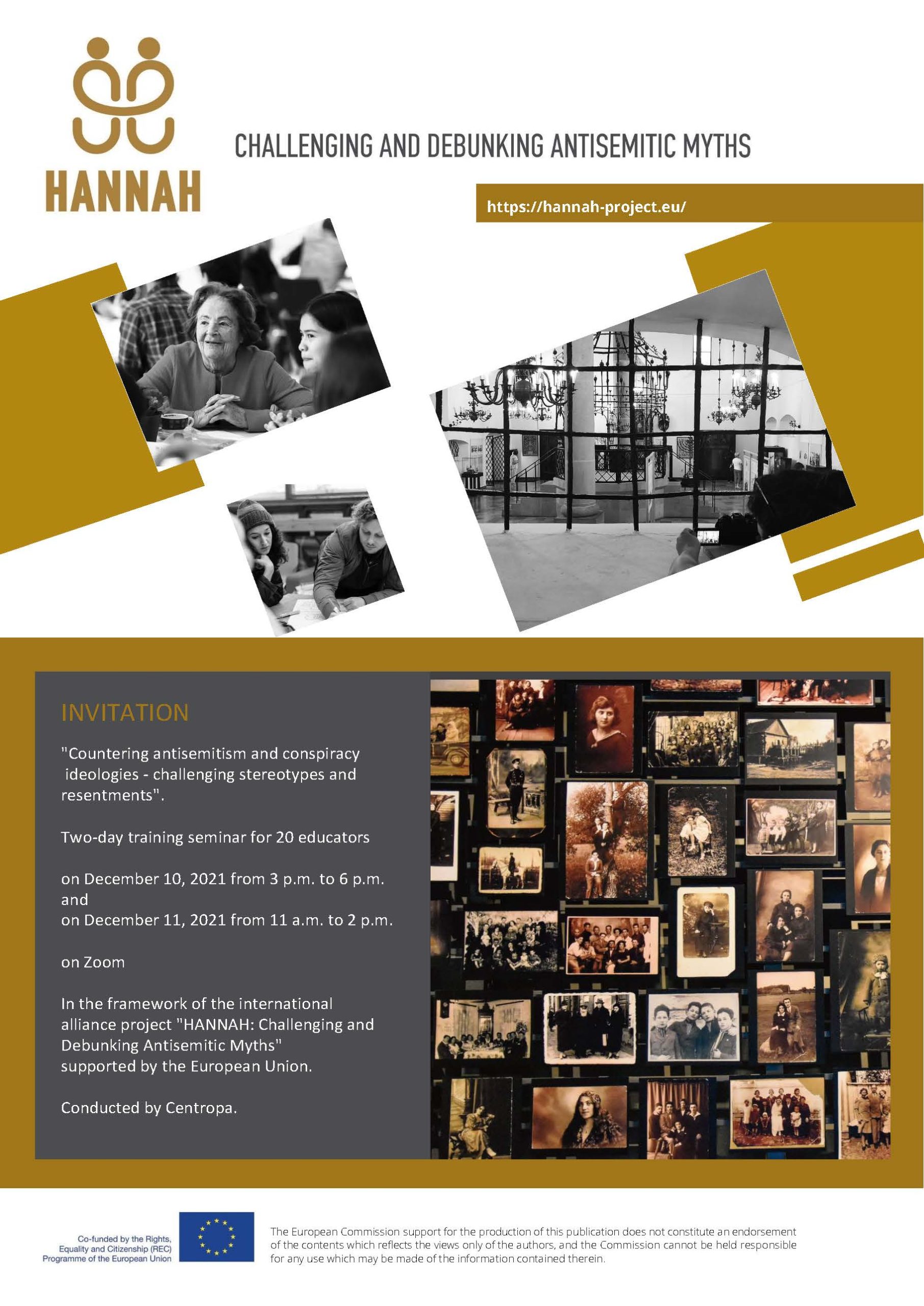 Download PDF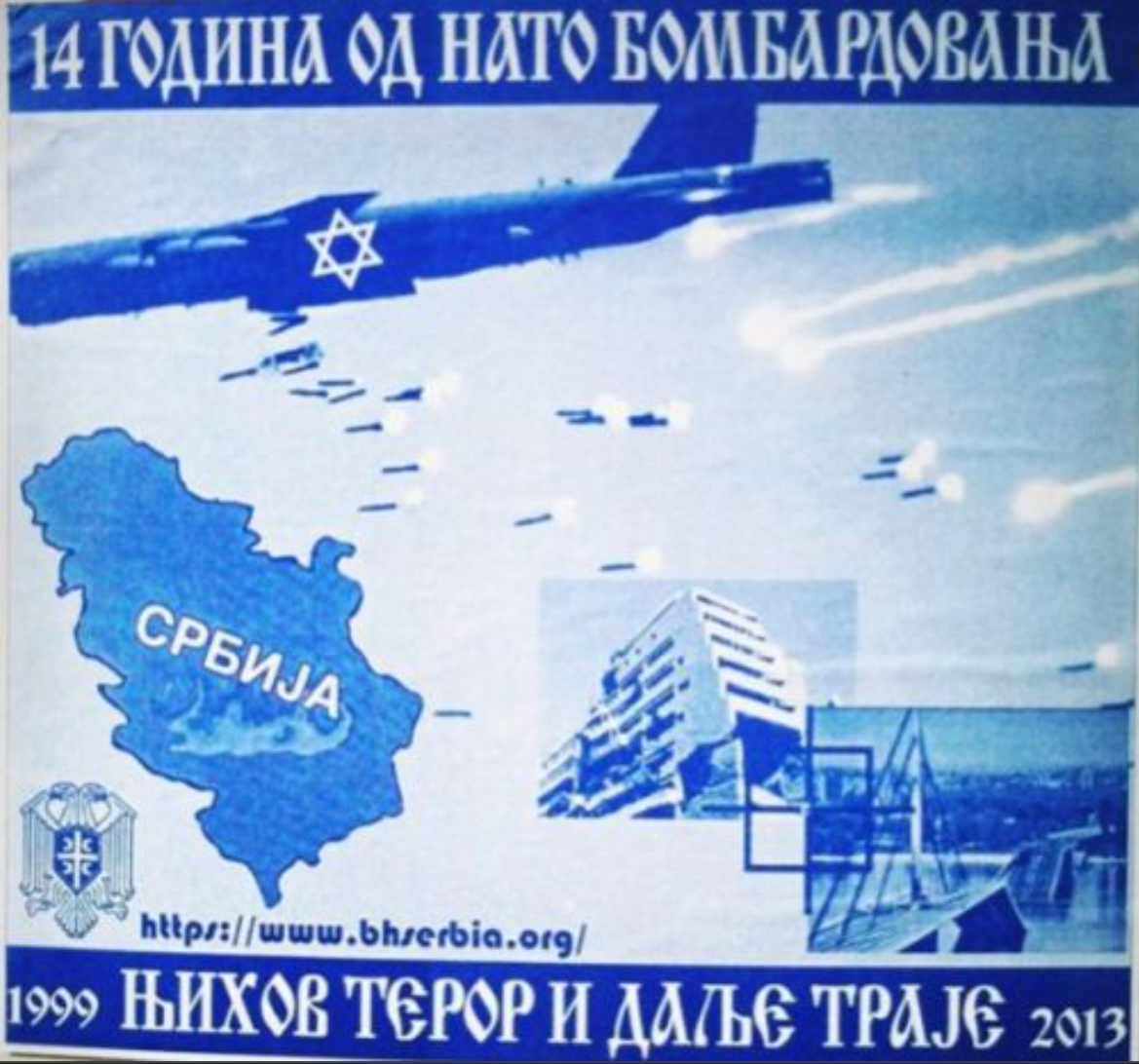 Posters with pictures of a World War II bomber with the Star of David and pictures of the collapsed buildings in Belgrade and bridges on the Danube in Novi Sad, with the message "14 years since the NATO bombing, their terror continues" appeared in Belgrade in March 2013. Various antisemitic narratives emerged in the aftermath of the NATO bombing of Serbia in 1999. These narratives still resurface from time to time, usually in the extreme-nationalistic and anti-American circles. While their focus is predominantly anti-American, in some of their segments they extend to traditional, typical, and well-known antisemitic stereotypes and myths. Founded on the myth about the "Jewish influence on the American foreign policy", these narratives suggest that Jews were involved in the decision-making processes, or that Jews alone were behind the NATO bombings of Serbia. These antisemitic narratives may extend to imply responsibility and accountability of all Jews for their alleged role in NATO bombings of Serbia. Taking it further, there is a question of loyalty of Serbian Jews in this regard and accusations that their loyalty supposedly lies with the "World Jewry" rather than with Serbia and its people.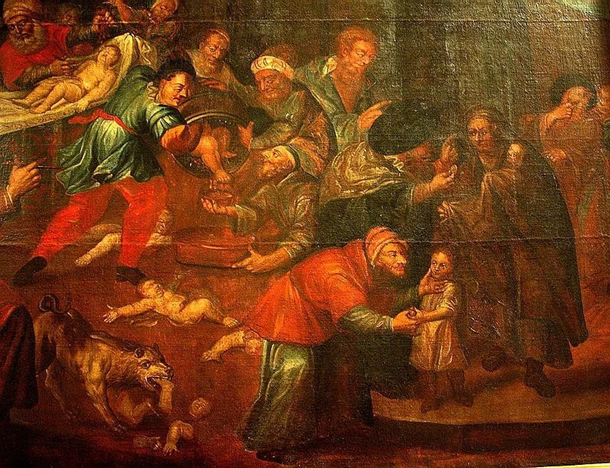 Blood Libel (Ritual Murder). Original painting from the church in Sandomierz, Poland. Author: Karol de Prevot, first half of the 18th century. In the 17th century and the first half of the 18th century, Sandomierz was a place of conflicts between Catholics and Jews. In 1628, Jews were accused of causing the death of a local pharmacist's son. They had allegedly kidnapped the child, drawn blood from him, chopped up his body and given it to dogs to eat. The investigation conducted at the time proved that the accused Jews were innocent.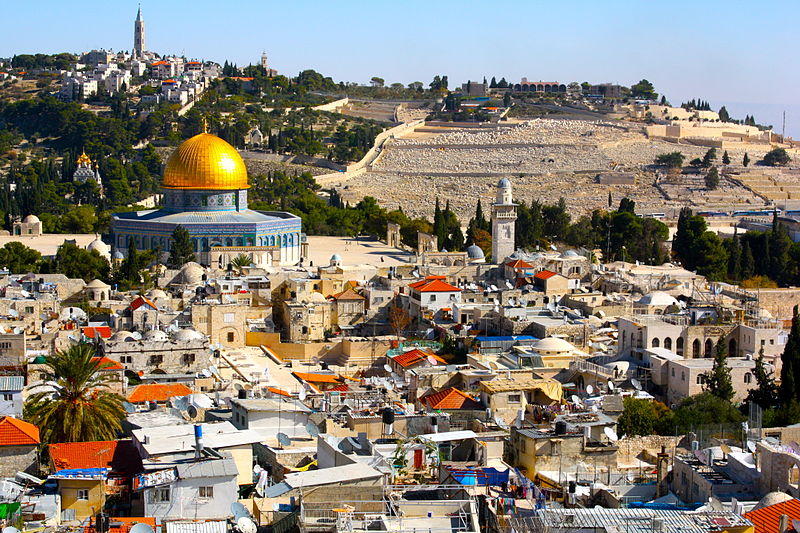 The narrative that "Nothing fuels modern antisemitism more than the state of Israel. If the latter were to change its policy, antisemitism in its many contemporary facets would also decrease or even vanish" is a perfidious perpetrator-victim reversal. Suddenly, anti-Semites are no longer to blame for antisemitism, but the Jews − or the Jewish state of Israel. The non-Jewish world only reacts, so to speak, whether it is Palestinian terrorists who are allegedly waging a "fight for freedom" against the "Zionist oppressors" or their supporters in Europe and elsewhere who do not want to be denied their "criticism of Israel", no matter how antisemitic they may be. Adorno called this 'projection' − the victim is accused of what one is doing or intending to do.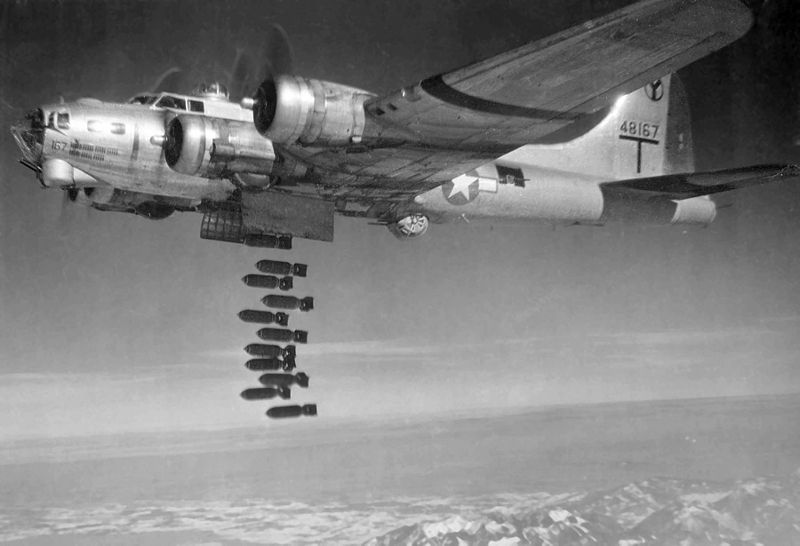 The German right-wing party NPD and other right-wing organizations speak of the bombing of Dresden and other German cities during World War II as "Bombenholocaust", meaning Holocaust by bombs. This is meant to equate those bombings with the Shoah in order to diminish the singularity of this crime against humanity and absolve the perpetrators of it.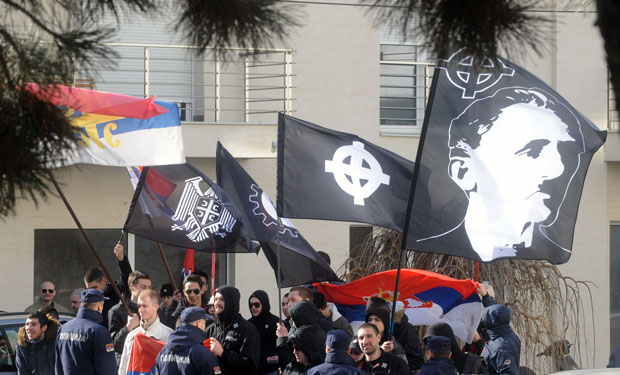 The glorification of Nazi ideology is sometimes present on the stands of Serbian football stadiums. The supporter of the football club Rad from Belgrade in particular are known for using Nazi symbols. These "football fans" often display flags with the "Celtic cross," the "SS Totenkopf" symbol, as well as banners with the image of Dimitrije Ljotić, a Serbian fascist politician and ideologue who established the Yugoslav National Movement (Zbor) in 1935 and collaborated with German occupation authorities during World War II.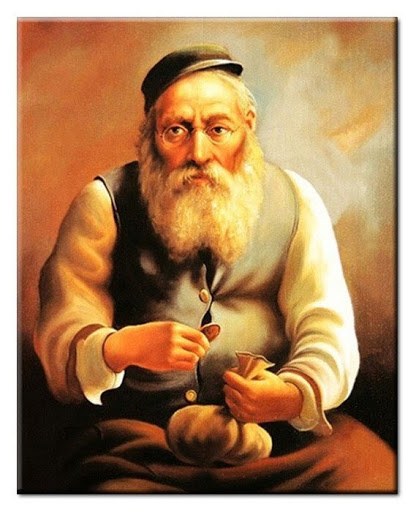 A rhyming "poem" in Polish [translation without rhymes] "In order to have money at home and never run out of it, you need to have a Jew at home who will guard the money." "When in poverty, go to the Jew." The aforementioned examples corroborate the popular belief that a statue or a painting depicting a Jew with a coin brings financial success. Although the origins of this belief are not entirely clear, one can definitely trace within it the stereotypical characteristic of Jews being wealthy and possessing high business skills.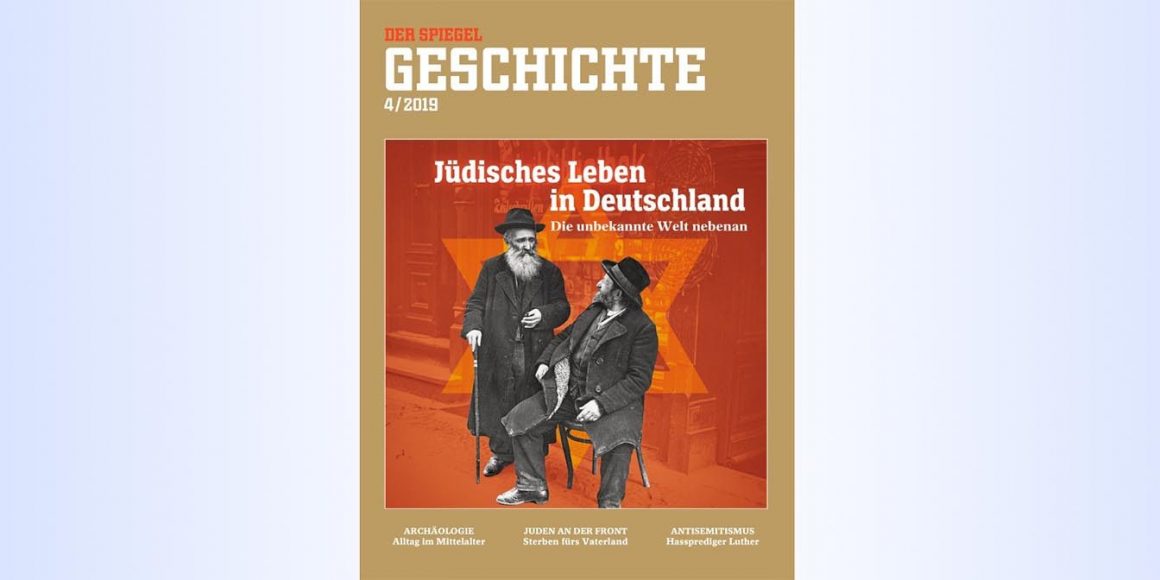 Spiegel Cover portraying local German Jews as Eastern European Hasidim. Jews have been an integral part of German society for 1700 years, 'they are not from an unknown world next door'. To depict German-Jewish history "Der Spiegel" could have portrayed Moses Mendelssohn, Bertha Pappenheim, Walther Rathenau, Max Horckheimer or Rosa Luxemburg. But they chose an image of orthodox Eastern Jews from the poor Scheunenviertel (former Jewish district) in Berlin, familiar from Nazi propaganda.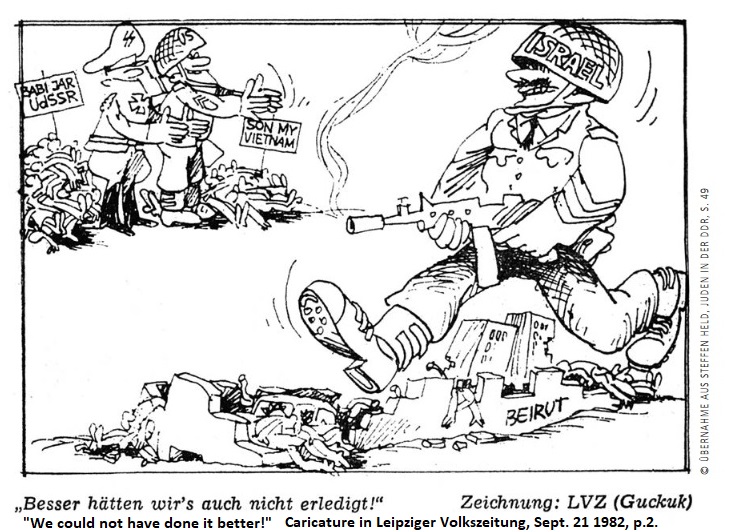 During the 1982 Lebanon war, on 21 September 1982, the GDR newspaper Leipziger Volkszeitung (LVZ) published a caricature depicting an Israeli soldier marching through the corpses in the ruins of Beirut while being applauded by an SS-officer and an American officer. The caption read: "We could not have done it better!". Next to the SS-officer is a pile of corpses with the sign "Babi Yar, USSR", and next to the American a pile with the sign "Son My, Vietnam".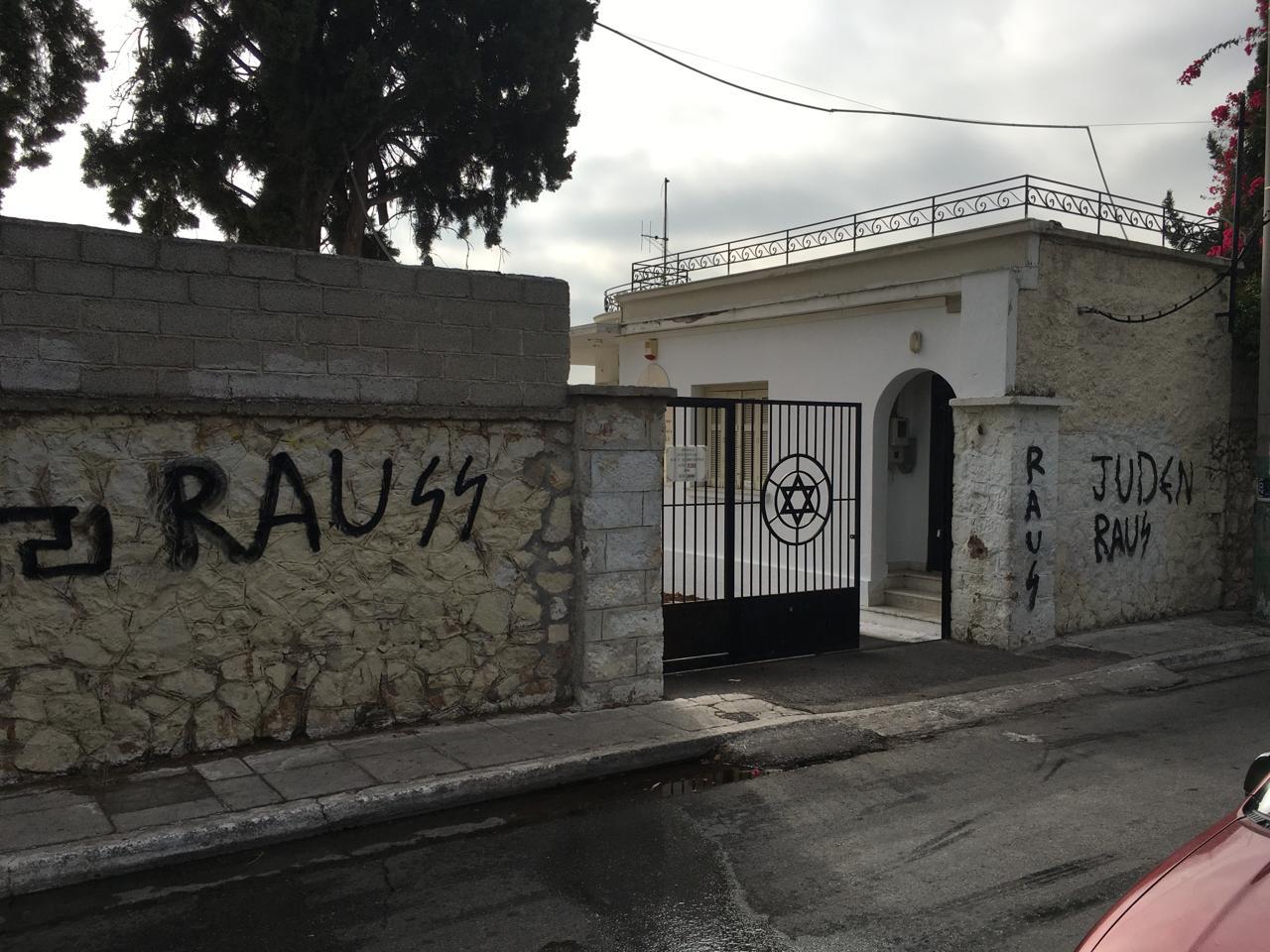 The results of acts of vandalism against Jewish sites can be summarized as following: graffiti with religious symbols, swastikas, obscene symbols and desecration of Jewish graves and Holocaust memorials. These attacks take place not just in Athens and in Thessaloniki but all over Greece, which magnifies their implications, considering that only 5 000 Jews live in Greece within a total population of about 10 700 000 people.