Διαδικτυακή συνάντηση στο πλαίσιο του έργου HANNAH
Στις 23 Ιουνίου στις 12:00 οι εταίροι του προγράμματος "HANNAH - Προκαλώντας και καταρρίπτοντας αντισημιτικούς μύθους" συναντήθηκαν διαδικτυακά, αντί να συναντηθούν στην Κρακοβία, λόγω των ταξιδιωτικών περιορισμών που εξακολουθούν να ισχύουν.
Ας ελπίσουμε ότι θα μπορέσουμε να συναντηθούμε στην Κρακοβία τον Σεπτέμβριο, όπου θα μας φιλοξενήσει το Εβραϊκό Μουσείο της Γαλικίας (Galicia Jewish Museum) που θα φιλοξενήσει και διοργανώσει την συνάντηση.
Οι εταίροι συζήτησαν ενεργά την πρόοδο των εργασιών τους σήμερα, όπως η περαιτέρω ανάπτυξη του περιεχομένου του προγράμματος κατάρτισης για τα δια ζώσης σεμινάρια, που σχεδιάστηκε από το Εβραϊκό Μουσείο Ελλάδος, η προετοιμασία του εκπαιδευτικού ψηφιακού γραφικού μυθιστορήματος (Terraforming) καθώς και το repository αντισημιτικών αφηγήσεων, το οποίο έχει ως στόχο να παραδώσει προδιαγραφές για τις αντισημιτικές αφηγήσεις και τις αντίστοιχες απαντήσεις διάψευσης και κατευθυντήριες γραμμές του οποίου αναπτύχθηκαν από την (Terraforming.org) και τεχνικά θα σχεδιαστεί από την ReadLab. Η ReadLab, the documentary film, which is coordinated by Jugend- & Kulturprojekt e.V., further plans for the 30 Oral History Interviews whose specifications were designed by the Εβραϊκό Μουσείο Ελλάδος – Jewish Museum of Greece and to which we look forward to, the website of HANNAH project. which has been designed and developed by ReadLab and which we will soon be available for you in all partners languages and next activities of dissemination, which are coordinated by Centropa.
Η επόμενη διαδικτυακή συνάντηση θα πραγματοποιηθεί τον Ιούλιο 2021.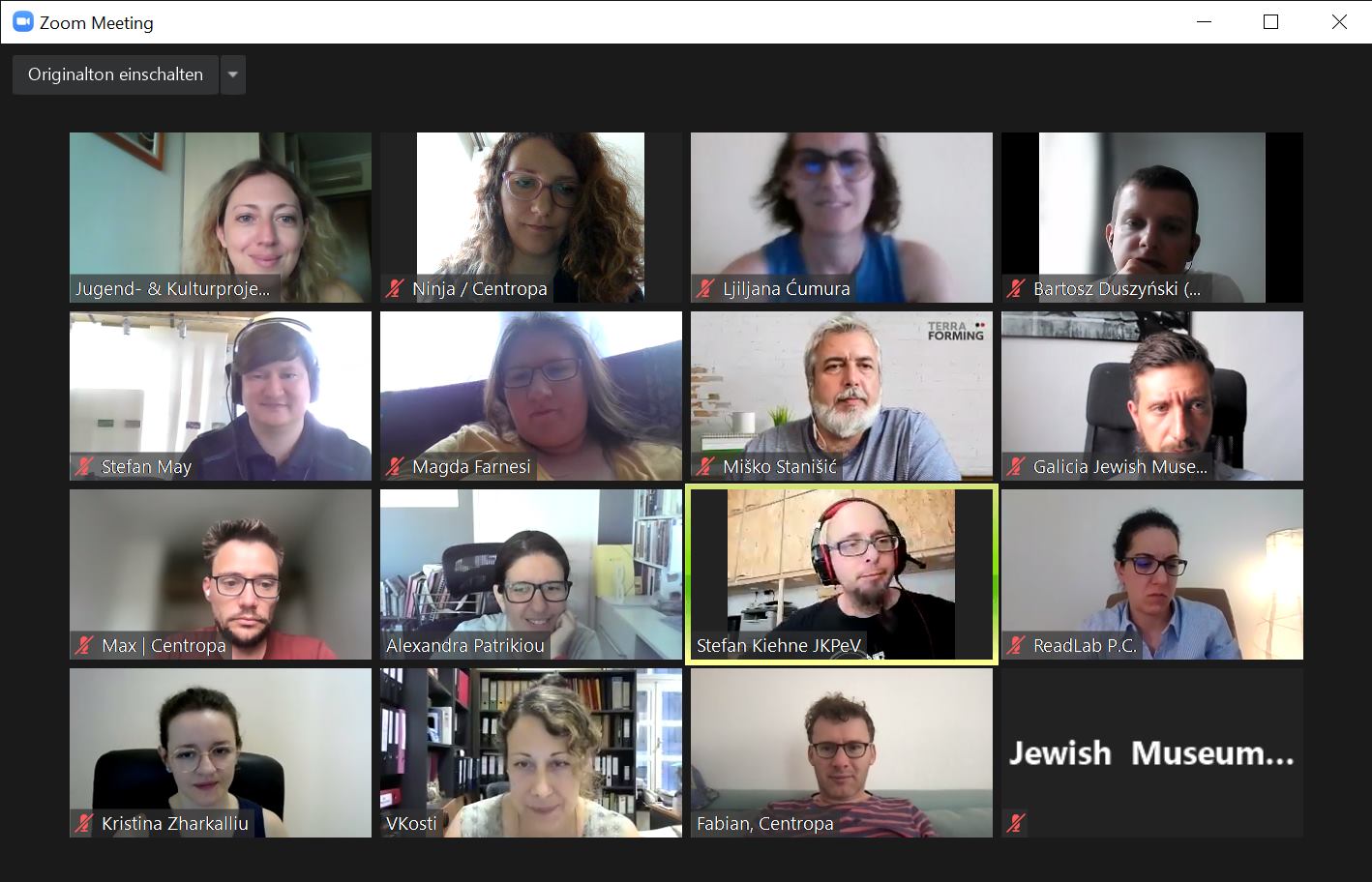 .
**The HANNAH project is co-funded in the framework of the @EuropeanCommission Rights, Equality and Citizenship Program (2014 – 2020).